Top 6 Beatstars Alternatives for Music Producers
Introduction:
In the ever-evolving world of music production and beat-selling, adaptability is key. Recent changes on Beatstars have prompted music producers to explore alternative platforms that can cater to their unique needs. With years of experience in the beat-selling industry, I've delved into various platforms and beatstore templates. In this article, we'll dive into six credible alternatives to Beatstars. These platforms offer a diverse range of features and customization options to empower music producers on their journey.
When it comes to modernity and customization, Sonaar Audience™ takes the lead. Developed in 2023 by Sonaar and built on the user-friendly Elementor builder, this template kit for WordPress is a music producer's dream. With its pristine design and full functionality, it stands out as an excellent choice for those who seek a professional beat-selling platform.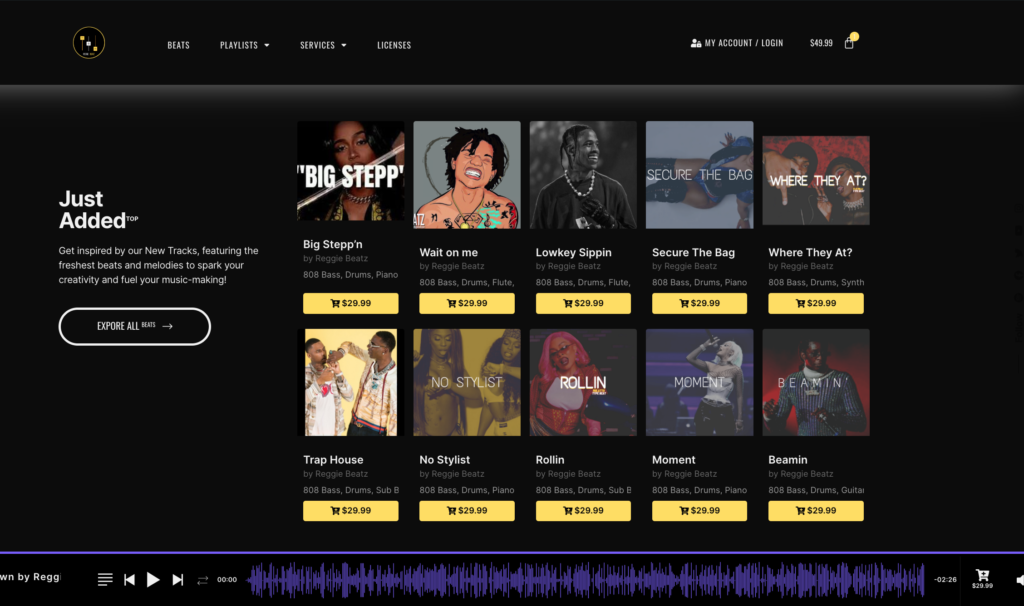 Watch and overview and tutorial of this template below
2. Airbit Infinity Store:
Formerly known as MyFlashStore, Airbit boasts a rich history in the beat-selling industry. The Infinity Store they offer is a versatile platform where music producers can not only sell beats but also offer sound kits and services. Moreover, by joining the Airbit marketplace, you can enhance your visibility and reach a broader audience.
3. Shopify Custom Beat Store:
For those who prefer the reliability of Shopify, a custom beat store on this platform can be a fantastic option. While there may not be ready-made templates available, you can collaborate with experienced developers who can craft a tailored beat-selling solution just for you. Shopify's user-friendly interface makes it a preferred choice for many, and with a custom store, you can sell beats, sound kits, memberships, and more.
Watch and overview and tutorial of this template below
4. Just Beat Maker One Page:
Just Beat Maker offers a unique solution that combines the flexibility of WordPress with the convenience of an embedded beat store. Through the use of an iframe, you can seamlessly integrate any beat store, including Beatstars and Airbit, into your WordPress website. This approach offers extensive customization options while harnessing the features of popular beat marketplace platforms.
Watch and overview and tutorial of this template below
5. Beatstore.co:
Starting as a plugin, Beatstore.co has evolved into a comprehensive beat-selling solution based on WordPress. Its user-friendly template simplifies the process of setting up a beat store. If you prefer a more straightforward integration, you can opt for their plugin, which provides core functionality without the full template.
Watch and overview and tutorial of this template below
6. Rebirth:
Rebirth serves as a lightweight alternative to the Sonaar Audience template. It offers nearly all the features of the Audience template, excluding services. Built on WordPress, Rebirth provides a flexible platform that can be extended to meet your specific needs, making it a valuable alternative for music producers.
Watch and overview and tutorial of this template below
Conclusion:
As music producers navigate the changing landscape of Beatstars, it's reassuring to know that there are several reputable alternatives to consider. Each of these platforms brings unique features and customization capabilities to the table, allowing you to craft a professional beat-selling platform tailored to your preferences and aspirations. Whether you opt for Sonaar Audience™, Airbit Infinity Store, Shopify Custom Beat Store, Just Beat Maker One Page, Beatstore.co, or Rebirth, the key is to find the platform that aligns with your goals and empowers you to continue thriving in the beat-selling industry.
FAQs:
1. Are these Beatstars alternatives suitable for beginners in beat-selling?
Absolutely! These alternatives cater to both beginners and experienced music producers, offering various levels of customization and support.
2. Do these platforms support different payment methods?
Yes, most of these platforms support multiple payment methods, making it convenient for you to receive payments from your customers.
3. Can I migrate my existing beats and data from Beatstars to these alternatives?
You can do so manually
4. Are there any hidden fees associated with these alternatives?
While most of these platforms offer transparent pricing, it's a good practice to review their pricing plans and terms to ensure you're aware of any potential fees.
5. Which alternative would you recommend for maximum customization?
If you prioritize customization, Sonaar Audience™ and Shopify Custom Beat Store are excellent choices, allowing you to tailor your beat-selling platform to your exact specifications.